Sentinel Occupational Safety, Inc. and Cornerstone Research Group, Inc. (CRG) have announced a partnership to enhance Sentinel's SafeGuard® platform with advanced features that improve worker safety and provide valuable data for employers.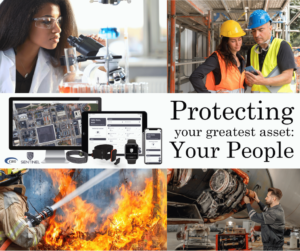 CRG will incorporate multiple federal research contract technologies into a premium offering of the SafeGuard solution. This new feature set is expected to support applications for use by firefighters, flightline workers, warfighters, and other high-risk occupations where harmful exposure is a critical safety concern.
"This collaboration is a perfect fit for our long-term growth strategy of leveraging innovative technologies to protect and enrich the lives of those at risk," said Zachary Kiehl, CEO of Sentinel, which began in 2020 as a spin-off of human-centered engineering firm Aptima.
"We have continuously improved our range of offerings to meet customer needs," said Kiehl. "The technologies CRG brings to the table are a terrific complement to our current capabilities and will create a new level of service offering for our growing list of early adopters."
Exposure to hazardous gases, particulates, and volatile organic compounds (VOCs) can have critical effects on an individual's health and are difficult to monitor real-time. Occupational and military environments have a need for customized solutions to monitor these environmental hazards, along with the individual's physiological and locational data.
"We are excited to further our collaboration with Sentinel to provide enhanced safety products for those who work to protect us every day," said Chris Hemmelgarn, President of CRG, a company at the forefront of creative problem solving for high-tech solutions. "This relationship will allow us to increase our reach for the unique capabilities being developed right here in southwest Ohio."
The partnership is expected to extend Sentinel's commercial reach and feature offering while providing a transition path for CRG's research and development efforts. The market availability of this critical safety product will have long-term implications for many industries.
"It is our responsibility to develop and propel innovative technologies into both government and commercial markets, oftentimes working with valuable partners like Sentinel," said Mark Cridge, team leader at CRG. "We are proud that the work we do can improve the health and save the lives of American troops, first responders, and other individuals who put themselves in potentially hazardous environments for the betterment of society."
To learn more about Sentinel's SafeGuard, visit SentinelOfSafety.com.